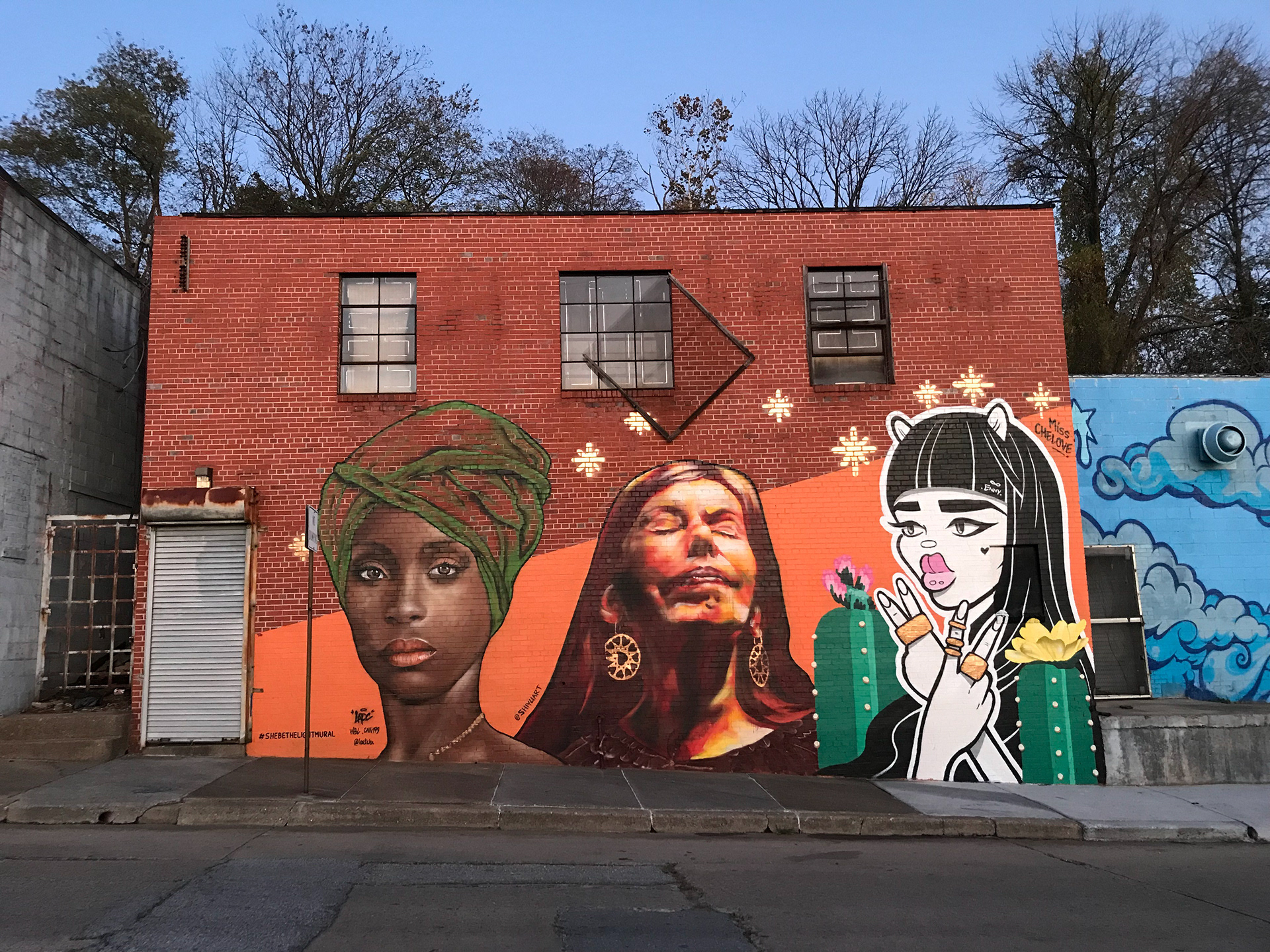 (She) Be the Light
Collaboration with LAEC and MISS CHELOVE

Acrylic and spray paint on brick
Baltimore, MD
2019
Rolling through like a burning flame
Like a super nova star
She be the light
When they in the dark
Morning
The moon pass the sun
Four constellations start forming
Across up in the sky
The central portrait in this collaborative mural features Baltimore-born artist Shan Goshorn (1957-2018). Goshorn, whose career was largely based in Tulsa, Oklahoma, drew on the traditional basket-weaving techniques of her Eastern Band Cherokee heritage to create innovative, socially and politically charged works. Many of her creations integrated paper copies of archival material
⁠
—
treaties, compacts, and speeches
⁠
—
as well as testimonies and photographs crowd-sourced from Native American communities. 
Goshorn's art is held in prestigious collections such as the National Museum of the American Indian (Smithsonian Institution, Washington DC), Denver Art Museum (CO), Gilcrease Museum (OK), Museum of Contemporary Native Arts (NM), and more. She was the recipient of numerous awards and fellowships throughout her career, including the 2015 United States Artist Fellowship, 2014 Natives Arts and Culture Artist Fellowship, 2013 Eiteljorg Contemporary Art Fellowship, and the 2013 Smithsonian Artist Research Fellowship.
​​​​​​​
This collaborative mural was painted with Laetitia Cefali aka LAEC and Cita Sadeli aka MISS CHELOVE. It is located at 2215 Evergreen St, Baltimore, MD.